No, he didn't care then and he doesn't care now about my life or my children's lives.  Otherwise he wouldn't be such a barbarian – Our lives are worthless to him and his enablers.
If you are experiencing the same, know you aren't alone nor was it your imagination. Hang in there because you are the best reason to live.
First and foremost, I still feel a sense of shame and embarrassment to have to admit this vile individual had so much control over me that I actually thought ending my life was worth exposing him for the monster that he is. Sadly, to this day, this man can't seem to want to stop trying to control what I think or feel – It's disgusting.  Knowing I had brain trauma and severe PTSD since he was the one who caused both when he threw me against the wall of our apartment, the abuser who maimed me, told me to "do it" to put him out of his misery when I threatened to kill myself.  I still can't believe I uttered those words – when I did, he hung up on me. When I called back, he said he wasn't going to talk to me because he wasn't going to tolerate talking to someone who was planning to "hurt" him.
He characterized hurting him to my wanting to make certain his dirty little secrets of the horrible things he did to me and continued to do me be exposed after I was dead since I was fearful of hiring a lawyer and taking steps to stand up for myself. I felt trapped and wanted out of the hell I was in – His response exhibit his concern about losing control over me and exposing the monster that he is, versus my hurting myself.
He knew the horrible shape I was in and yet this monster did nothing – He could have called the police, called the father of my children, call my therapist or told me to not do it.  Instead this "honest, "earnest," "kind," man hung up on me because god forbid, he is hurt after I am dead.  OMG!  How does one make sense of someone like him!
I couldn't make this stuff up even if I tried.  WOW! 
It is good to see the courts found Michelle Carter guilty and responsible for telling a vulnerable person to kill themselves.  I am glad that prosecutors across the country are taking coercive control and while I am thrilled to have learned "United States law, depraved–heart murder, also known as depraved-indifference murder, is a type of murder where an individual acts with a "depraved indifference" to human life and where such act results in a death, despite that individual not explicitly intending to kill" I want to put more laws in the books that stops bullies and abusers from torturing their victims before they feel the desperation to kill themselves.  That's what I want to use my story to do.  I want my story to be the example of how I am being emotionally raped and gutted all over again through the system because my abuser and his ex wife can afford it.  What they are doing to me should not be legal and I hope when all the pieces are put together, they are somehow punished by the very system they are using to try and hurt me with.
Joyce Gearhart, Roger Masse, Jessica Livingston, Tim Hanson, Sarah Shelquist, Sabrina Moe and the rest of the individuals who have bought into his version of the truth in reference to my lying about an incredibly sensitive issue, which is at the heart of his attempt to silence me, MUST own that you are supporting a man  who told me to end my life to put him out of his misery.  He is technically defaming me by the assertions he has made.
I don't care that you are his friend, lover, colleague.  I am going to drive this point over and over and over again because it is at the root of why more victims don't leave abusive relationships.  Own who you are supporting without blaming me, the victim.  Own who you choose to associate with without blaming me for his actions.  The truth is there but he has created an illusion to what that truth is, and all of you, since he has brought you into our dispute will learn that truth as it is inevitable and will be sickened by how far he has gone to hurt me, and you will feel shame in how you have treated me.  In the meantime, DO NOT use me to justify your own values. Own your actions.
Court Upholds Conviction Of Michelle Carter In Texting-Suicide Case
A Massachusetts woman who was convicted of coercing her boyfriend over text messages into killing himself will serve her full sentence following a ruling on Wednesday by the state's high court.
Michelle Carter's 15-month sentence handed down in 2017 for involuntary manslaughter had been placed on hold as the Supreme Judicial Court reviewed herappeal.
This followed the defense arguing that her verbal conduct was protected free speech under the Constitution's First Amendment and that Conrad Roy III's death in 2014 was caused by his own actions.
The court ultimately affirmed that Carter's repeat urging of a "vulnerable person" to kill himself, even as he expressed reluctance, caused his death.
"The crime of involuntary manslaughter proscribes reckless or wanton conduct causing the death of another. The statute makes no reference to restricting or regulating speech, let alone speech of a particular content or viewpoint," the court stated in its ruling Wednesday. "We are therefore not punishing words alone, as the defendant claims, but reckless or wanton words causing death."
 The evidence against the defendant proved that, by her wanton or reckless conduct, she caused the victim's death by suicide.
"The evidence against the defendant proved that, by her wanton or reckless conduct, she caused the victim's death by suicide," the court concluded.
The 22-year-old has been allowed to remain free while the court reviewed her case.
Carter was 17 when she urged 18-year-old Roy, who was suicidal at the time, to kill himself with carbon monoxide from his pickup truck in a Fairhaven parking lot in July of 2014.
When Roy had second thoughts about doing it, Carter texted him to "get back in" his truck and complete what he had set out to do, the Bristol County Juvenile Court heard.
"No more pushing it off. No more waiting," she at one point texted him.
When Roy expressed concern about how his family would handle his death, Carter told him that "they will get over it and move on," text messages shared by the Supreme Judicial Court show.
"They won't be in depression I won't let that happen. They know how sad you are and they know that you're doing this to be happy, and I think they will understand and accept it," she said. "The time is right and you're ready, you just need to do it! You can't keep living this way."
She was convicted of involuntary manslaughter in 2017 and ordered to serve 15 monthsof a 2.5-year sentence.
Carter also faces a $4.2 million wrongful-death lawsuit in Norfolk County Superior Court that was brought by Roy's mother.
This story has been updated with more details from Wednesday's ruling.
This article originally appeared on HuffPost.
Man Charged With Murder For Allegedly Driving His Partner To Suicide
Who is responsible when a domestic violence victim ends her life?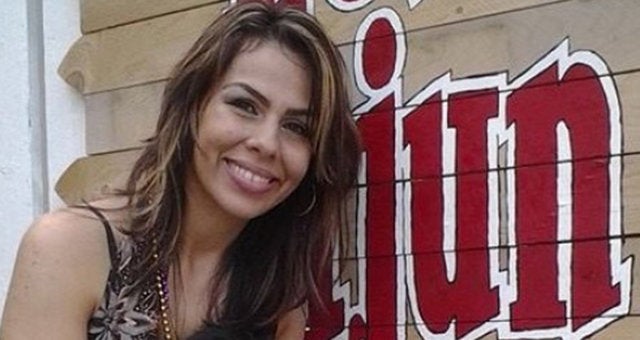 Prosecutors say Jessica Haban took her life after years of domestic abuse, and now they want to hold her partner accountable.
For approximately 10 years, Minnesota authorities say, Jessica Haban was physically and emotionally abused by her partner. Long Vang, 34, allegedly smashed her head into a washing machine, tossed her into the wall by her hair, held a knife to her throat, and in May 2015, punched her in the head with a closed fist, causing a traumatic brain injury.
The head trauma left Haban struggling with dizziness, confusion and nausea. She fell into a depression, and told a social worker that she felt as though Vang had already killed her. While Vang was under court order to stay away from her, she told police, he was continuing to call and text. The abuse, she said, was starting to take a severe toll on her mental health.
Haban was hospitalized on three occasions, but never stayed long. She was afraid of losing custody of her kids — which, according to a social worker, is what Vang told her would happen if she continued receiving care.
On December 16, 2015, three days after being discharged from the hospital, Haban killed herself at age 28. Earlier this month, in a surprising move, authorities arrested Vang and charged him with murder for allegedly driving his partner to take her own life.
"I believe Mr. Vang's conduct directly contributed to the death of his partner," Olmsted County Attorney Mark Ostrem said in a press release. "Mr. Vang was clearly aware of the precarious state of his partner's emotions following her hospitalizations and he continued the relentless contacts until her death."
It's extremely rare for a person to be charged with causing someone else's suicide. People who die by suicide are typically considered to have intentionally and voluntarily taken their own life. None of the experts contacted for this story had heard of a similar case involving domestic violence.
Vang was charged with a type of murder referred to as "depraved heart murder," which doesn't require prosecutors to prove an intent to kill. Instead, they must prove that the suspect consciously did something that was very likely to kill, and in doing so, displayed complete disregard for human life — or, in other words, acted with a depraved mind. (The ancient-sounding charge received renewed attention this year, when the Baltimore police officer who drove the van Freddie Gray rode in before he died was charged with depraved heart murder.)
"In common law, courts and judges decided over time that sometimes people were so reckless, so indifferent to human life, that it was functionally equivalent to intending to kill them," explained Joseph Kennedy, professor of law at the University of North Carolina at Chapel Hill.  "A modern example would be a guy who rode his high-speed motorboat through a lake crowded with swimmers. Maybe you can't prove that he was intending to kill someone, but he is so indifferent to the high risk that it is a functional equivalent of intending to kill."
For the prosecution to make a successful case against Vang, Kennedy said, they would need to prove that he consciously disregarded a substantial risk that Haban would kill herself as a result of his conduct.
"If he can prove that, I think the depraved part comes easily," he said. "Domestic violence is antisocial by its very nature."
"Women who make suicide attempts experience higher rates of domestic violence than women who do not, and women who experience domestic violence have higher rates of suicide attempts and ideation than women who have not been victimized by an intimate partner," said Carole Warshaw, director of the National Center on Domestic Violence, Trauma & Mental Health.
"It's critical that people be attuned to the ways that perpetrators of domestic violence actively engage in behaviors designed to undermine their partner's sanity," Warshaw said. "They may try to control their access to treatment, coerce them to overdose on drugs, threaten them with involuntary commitment or take actions to sabotage their recovery. The stigma associated with these issues can mean that the perpetrator is seen as more credible than the person they have been abusing for years."
It's critical that people be attuned to the ways that perpetrators of domestic violence actively engage in behaviors designed to undermine their partner's sanity.Carole Warshaw, National Center on Domestic Violence, Trauma & Mental Health
Liz Richards, director of the Minnesota Coalition for Battered Women, said this was the first case that she was aware of in which an accused domestic abuser faced criminal charges for his partner's suicide.
"We know that domestic violence, and specifically, domestic violence that involves coercive control and occurs across many years, does have a negative impact on people's psychological and mental well-being," she said.
After years of hearing anecdotal reports of domestic violence victims' suicides, members of Richards' organization did some research into the problem. They pulled all the public records of adult women in Minnesota who died by suicide from 2009 to 2011, and cross-referenced them with protective orders and criminal charges of domestic violence.
"Even with extremely limited information, we found that between 7 and 14 percent of those cases had a documented domestic violence record," Richards said. "This is an area that would be nice for someone to look into deeper."
David Rossman, professor of law at Boston University School of Law, said the case against Vang raises complicated legal questions. In many cases of suicide, he said, it would be easy to find someone in an individual's past who had mistreated them when they were vulnerable. But how far back do you go? And how do you prove that it was another person's actions that ultimately caused the suicide?
Rossman also worried about prosecutorial overreach.
"It leaves a lot of power in the hands of the prosecutor to bring a criminal prosecution when there is an awful lot of speculation," he said.
For Haban's family, the charges offer some reassurance that authorities are taking her death seriously.
An obituary for Haban described her as a highly talented young woman who excelled at everything she put her mind to.
"She loved her children with all her heart and did everything she could to make their dreams come true," it read. "She really made an impact on many people's lives and was known for her caring heart, long conversations and putting others in front of her own personal needs."